WHEELWOD SPEAKERS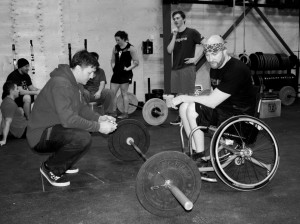 Our STAFF has been teaching, programming adaptive Fitness since 2012. We have experienced instructors and multiple topics we can come and speak to your staff, service groups or conventions. We have many speakers on staff, all adaptive athletes with varying impairments and stories of success. If you would like more information on speakers please email and ask for details.
ALL SPEAKERS WILL CAN BE SCHEDULE THROUGH EMAIL
WHEELWOD@GMAIL.COM
Coaches/ Speakers
Chris Stoutenburg
Steph Hammerman
Kevin Ogar
Logan Aldridge
.
SPEAKERS FEES: 
Each Speaker has their own set rate.
SPEAKER FEES WILL INCLUDE TRAVEL COST AND ACCOMMODATIONS.
please contact us at wheelwod@gmail.com. or call us at 705-444-0006 at Crossfit Indestri to get individual fee structure.