WheelWod Nation!
We had a record week with over 1000 hits on the website yesterday! It's Incredible how many adaptive athletes are getting into the movement! the world is watching lets show them what we can do. We are all working towards improving our fitness and health. there are plenty different scales to get to a final goal and the addition of the muscle ups in chair with bands is an amazing example of that. Keep adapting and trying new methods, it is how we will define our movement. Listen to the praise of your fellow athletes and share the knowledge!
Today's WheelWOD:
Brought to you by The beautiful mind of Steph "The Hammer" Hammerman and Coach Brandon Fulwider. This is a "Functional Movement Friday WOD" so give it a shot and get outside your comfort zone. Steph is my favourite Bro Girl and is one of the hardest working athletes in the game. She never gives up no matter how hard the challenge is. #noexcuses #BossLady follow her on IG @stephthehammer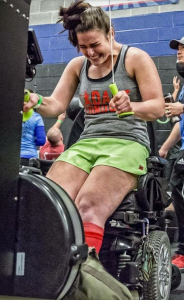 Buy In:
3 rounds of "Adapted Cindy"
5 pull ups
10 push ups
15 inchair back extensions
Death by Sprint
10m sprint every minute adding a sprint every minute
Focus:
Bench Press APRE
6 Reps 50% of 10 Rep Max
3 Reps 75% of 10 Rep Max
ME 100% of 10 Rep Max
ME Based off of 3rd Set
work off numbers from last week
if you got less than 10 by 3 or more on final set then start 5-10lbs lighter this week
if you got 8-12 start at finishing weight and if you got 13 or more on final set go up 5-10lbs to start.
***unless your just starting then find a 10 rep max and get started***
WOD: Functional Friday
15 min Amrap
4 Weighted box overs
5m rope pull with weight
5m crawl
5m rope pull with weight
5m crawl
Video of movement breakdown from B. Fulwider Here:
at
Have a great weekend! get out a do something and crush this wod!
if your looking for coach Brandon Fulwider
@cs_bfulwider on IG
Stouty
@stouty08 IG
@stouty_13 Twitter
Chris "stouty" stoutenburg on FB
Wheel Wod
@Wheelwod on IG & Twitter
Wheelwod on FB