Today on Wheel Wod we are featuring one of the greats in the adapted fitness world. He's an OG and the first ones I found in the Wheelchair Crossfit world when I started over 3 years ago.  Angel Gonzalez is a crafty Rican with an appetite to crush all wods no matter the length. He lives in Houston Texas and if your in a wheelchair in Houston or surrounding area and he has seen you… he probably approached you and asked if you wanted to try Crossfit. He owns Crossfit Redefined and was the reason I knew buying Crossfit Indestri was possible. I saw how he was doing it in Houston and wanted to do the same. Im a big fan of my Homie and had the pleasure to compete along side him in the AGOGE challenge last summer. Angel is the salt of the earth and his main goal is to make sure the wheelies are getting in the box and getting fit. He has a heart the size of a Texas booty 😉 (and we know that the BBQ and Corn Bread makes them big down there) He is a pioneer in this adapted Crossfit game and can be found travelling from box to box with the crossroads adaptive alliance spreading the good word when he's not in the box. He is a great resource for adapted sports and will always take the time to help a wheelie in need.
Our boy is about to get hitched and we wish him and Jackie all the best! stay tuned for some wods on wheel wod by this crazy man… you will be left in a puddle when we hit one! My brother from a Southern mother Angel Gonzalez.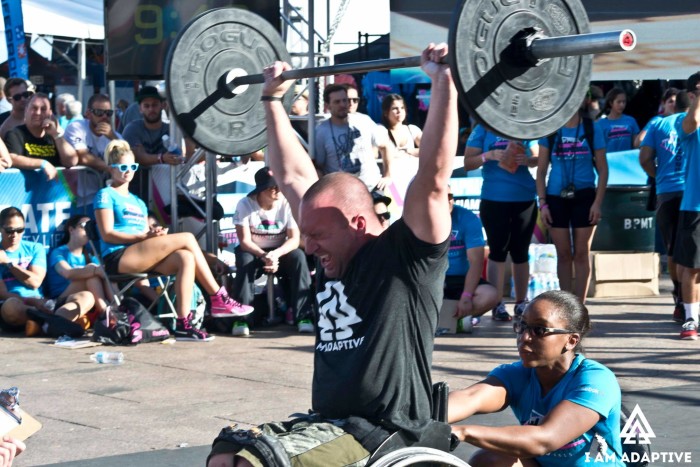 Picture from www.IAMADAPTIVE.com
now on to the workout
Hope your alive after all those Wall Balls, The numbers we saw yesterday were amazing!
#WheelwodNation is continuously growing and we want to make sure everyone is getting to be a part. Remember to post your videos, workouts or adaptations and tag @wheelwod of Facebook, Instagram, twitter or post the comments on the website.
We are now on week 3 of a strength program and I hope you have been following along with the strength pieces the same as you have been on the Wods. These focus parts of the program are how you will improve in your metcons.
Buy in: 
Banded shoulder mobility
PVC pass thru's
Good Mornings with 15 or 35lb bar
3 mins of cardio (row/erg/roll)
then
Death by pull up
increase 2 pull ups every minute until unable to complete in the 60 seconds
Focus: Barbell Row Apres
6 Reps 50% of 10 Rep Max
3 Reps 75% of 10 Rep Max
ME 100% of 10 Rep Max
ME Based off of 3rd Set
work off numbers from last week
if you got less than 10 by 3 or more on final set then start 5-10lbs lighter this week
if you got 8-12 start at finishing weight and if you got 13 or more on final set go up 5-10lbs to start.
***unless your just starting then find a 10 rep max and get started***
WOD: It's a chipper
For Time
1000m Row/Ski Erg/Roll
100 DB Snatch 1 arm Alternating 30#
75 Barbell Cleans from floor each rep 55#
50 DB Bent Arm Row (25 each Arm)
75 Slam balls 20#
100 KB Swings 25# or 12kg
1000m Row/Ski Erg/Roll
get after #Wheelwod and don't forget to buy your t-shirts!
Stouty