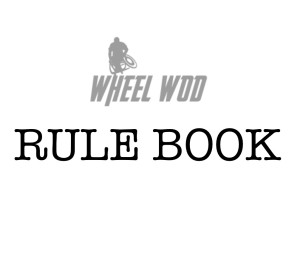 WheelWOD OPEN 2021
ImportantLINK: how to submit Scores
Athlete FAQ's https://help.competitioncorner.net/en/collections/384899-i-m-an-athlete
https://competitioncorner.zendesk.com/hc/en-us/articles/206380468-Submitting-Scores-to-an-Online-Competition
Rules:
WheelWOD HOLDS THE RIGHTS TO OFFER ANY ATHLETE A WILDCARD SPOT IF THEY DEEM WORTHY OF THE GAMES OR INJURED DURING OR BEFORE THE QUALIFYING PROCESS
1.01 – The WheelWOD Open is a series of 3 weeks of workouts, with multiple workout released each week, over 3 weeks of consecutive weeks. The workouts are released on thecompetitioncorner.com  will present the work outs for Seated & Standing Athletes on Mondays at 12pm EST. Athletes must complete each workout and have their score recorded and validated to be ranked on the WheelWOD Open Leaderboard via Competition Corner. Top 10 Athletes ( men & Women) (plus any positions taken from sanctioned events) from standing Seated (Wheeled) Standing Upper & Standing Lower will qualify directly to WheelWOD Games. Top 6 of new divisions ( Neuro & Sensory) Games will be held in lat summer, Location to be determined but will be in the USA in 2021.
The 2021 WheelWOD Open Dates
Workouts release and competition schedule is as follows: Multiple workouts will be released each week.
Week 1 – November 30th – December 6th 2020
Week 2 – December 7th – December 13th 2020
Week 3 – December 14th – December 20th 2020
The Top 10 finishers of The Men's & Women's RX Divisions will be automatically Qualified to The WheelWOD Games following verification of scores via video proof.
NOTE: Previous qualifiers for the 2020 Games that were cancelled will be automatically qualified as long as they complete all 2021 Qualifier workouts and the new qualified athletes will be backfilled if the previous athletes qualify ahead.
 The 2021 Open registration will close on Tuesday December 3rd 2021.
DECEMBER 3rd, at 8 p.m. EST.
1.02 – INDIVIDUAL ATHLETES Any athlete meeting WheelWOD's age requirements may register to compete in the Open, as an individual athlete. WheelWOD reserves the exclusive right to allow or deny the participation of any athlete. WheelWOD also reserves the exclusive right to validate or invalidate any athlete's scores submitted as an individual competitor. WheelWOD will make such participation and scoring decisions to preserve the integrity of the competition. WheelWOD TM. reserves the right, in its sole and absolute discretion, to invite guest athletes or others to participate in any stage of the competition.
Eligibility for competition to be able to compete at the WheelWOD Games
WheelWOD use a version established guidelines presented by International Paralympic Committee. If you do not fit these categories you can by email request a specific classification review.
Eligible Impairments for games competition
The first step in disability sport classification is to determine if the athlete has an eligible impairment.
The Paralympic Movement offers sport opportunities for athletes that have an impairment that belongs to one of the ten eligible impairment types. We are going to be using these guide lines along with the CrossFit 10 physical domains to make your assessment.
This is a General description of the 10 eligible impairment types:
Impairment: Explanation
Impaired muscle power: Reduced force generated by muscles or muscle groups, such as muscles of one limb or the lower half of the body, as caused, for example, by spinal cord injuries, spina bifida or polio
Impaired passive range of movement: Range of movement in one or more joints is reduced permanently, for example due to arthrogryposis. Hypermobility of joints, joint instability, and acute conditions, such as arthritis, are not considered eligible impairments.
Limb deficiency: Total or partial absence of bones or joints as a consequence of trauma (e.g. car accident), illness (e.g. bone cancer) or congenital limb deficiency (e.g. dysmelia).
Leg length difference: Bone shortening in one leg due to congenital deficiency or trauma.
Short stature: Reduced standing height due to abnormal dimensions of bones of upper and lower limbs or trunk, for example due to achondroplasia or growth hormone dysfunction.
Hypertonia: Abnormal increase in muscle tension and a reduced ability of a muscle to stretch, due to a neurological condition, such as cerebral palsy, brain injury or multiple sclerosis.
Ataxia: Lack of co-ordination of muscle movements due to a neurological condition, such as cerebral palsy, brain injury or multiple sclerosis.
Athetosis: Generally characterised by unbalanced, involuntary movements and a difficulty in maintaining a symmetrical posture, due to a neurological condition, such as cerebral palsy, brain injury or multiple sclerosis.
Visual impairment: Vision is impacted by either an impairment of the eye structure, optical nerves or optical pathways, or the visual cortex.
Intellectual Impairment: currently not a classification for WheelWOD events
The Paralympic Movement adopted the definitions for the eligible impairment types as described in the World Health Organization International Classification of Functioning, Disability and Health (2001, World Health Organization, Geneva)
WheelWOD will accept all physical impairment types that fall into the categories above.
The presence and permanency of one of the sport's eligible impairments is a prerequisite to participate, but not the sole criterion.
Overall ask yourself the following questions:
Does your impairment significantly affect 1 or more of the CrossFit identified 10 general physical skills?
Endurance
Stamina
Strength
Flexibility
Power
Speed
Coordination
Agility
Balance
Accuracy
If the answer is yes then you probably qualify and can submit a request for review from our committee.
1.03 – OPEN REGISTRATION Every athlete, whether competing individually must register online at www.wheelwod.com For step-by-step instructions on registering for the Open, please go to the FAQ page at www.competitioncorner.net and click on the "REGISTRATION" tab.
1.04 – OPEN REGISTRATION – Competition Corner Account: Each athlete must have a Competition corner account in order to compete in the Open. Creating an a account only needs to be done once. Athletes will use the same Competition Corner account each year. Athletes will use their account for registering, submitting scores, tracking workout submission and validation deadlines, and reviewing their score submission history. It is the athlete's sole responsibility to provide current, valid and truthful information in creating their account, including their date of birth and email address. Any athlete with questions or concerns about creating an account, should contact wheelwod@gmail.com. Athletes are not to create duplicate accounts. Age Requirements – Athletes must be at least 16 years old at the time they create an account on the CrossFit Games website. No athlete under the age of 16 may register to compete AND CONTINUE TO THE GAMES. But all athletes may compete in the open with parental consent under 18
1.05 – OPEN REGISTRATION – TERMS and WAIVERS As part of the registration process, and for all stages of the WheelWOD OPEN, athletes must agree, without limitation, to comply with the rules and guidelines stipulated in theWheelWOD OPEN Rule Book, the Assumption of Risk Waiver, Publicity Release Waiver  The athlete's agreement to abide by the rules remains in force until the close of the first Open workout in 2019 or until the athlete completes a new registration for the 2019 Open, whichever occurs first, which are final and binding in all respects.
1.09 – OPEN REGISTRATION – FEES To successfully complete the Open registration process, athletes must submit the registration form. There is $15.00 USD for Open registration individual athletes This is only collected to pay judges on video review.
1.10 – OPEN WORKOUTS – FORMAT For all Open workouts, the workout format will be released by WheelWOD and communicated uniformly to all athletes online. The workout format will include the following: • Required movements • Start and end ranges of the movement • Prohibited technique, accessories and/or equipment, if any • Adjustments or scaling by division, if any • Required number of repetitions and/or repetition scheme • Required equipment • Required amount of weight (NOTE: All weights will be released in pounds. It is the athlete's responsibility to use the correct poundage. If kilogram plates are used, the athlete will need to use appropriate combinations of plates to achieve the correct poundage. Collars or clips are not to be counted in the total weight. For the purpose of competitions, 15-kg barbells will be considered to weigh 35 lb., and 20-kg barbells will be considered to weigh 45 lb. • Time domain or time limit • Scoring details – competitions may determine the winner by highest point total or lowest point total, or any method or combination of methods WheelWOD selects. Point values for finishing position will be released before the start of the workout. • Filming and submission guidelines, if any In all stages of competition, including the Open, it is the athlete's responsibility to adhere to the workout format. This includes performing all required movements to the described standard, counting and completing all required repetitions, using the required equipment and loads, meeting the required time and meeting all submission standards. Modifying the workout format in any way is prohibited and will void an athlete's score. Only wheelWOD.com may provide official scaled versions of workouts for athletes to perform.
1.11 – OPEN WORKOUTS – UNCOMMON MOVEMENT CLAUSE/RANGE OF MOTION EXCEPTIONS Any violation of the prescribed workout format, including the movement standards or range of motion, will result in the repetition(s) being disallowed. Therefore, athletes and judges should be familiar with the Uncommon Movement Clause: "Any movement deemed uncommon, out of the ordinary or used to amend, shorten or change the accepted movement standard or range of motion including line of action of any event movement can and will be disallowed. It is the responsibility of the athlete to notify WheelWOD.com of any questionable movement before the workout." In addition, athletes should be aware that certain athletes with physical limitations in a specific range of motion may be granted an exception, in wheelWOD's sole discretion, from performing the prescribed range of motion for the workout. This limitation in the range of motion must be due to prior physical limitations or injuries that are obvious and clearly definable by demonstration. Any limitation must be brought to the attention of wheelWOD PRIOR to the beginning of the competition. Such instances are extremely rare and will be handled on a case-by-case basis.
1.12 – OPEN WORKOUTS – SCORE SUBMISSION AND VALIDATION It is the sole responsibility of the athlete to ensure the timely and successful submission of their workout scores or videos each week. Submissions that are incomplete (missing information such as the complete score,  containing video links that do not work, etc…), will not be accepted. Athletes must have their score confirmed by performing the workout by scored by judge or uploading a video of their workout to the competition corner account. Scores will then be validated either by registered WheelWOD judges. For more information on judging and score validation, please contact wheelwod@gmail.com
1.13 – OPEN WORKOUTS – VALIDATING VIDEO SUBMISSIONS An athlete's only alternative to performing an Open workout is to upload a video of the workout to the wheelWOD website through their Competition Corner Account. Score validation for any online video submission is the sole right of WheelWOD.com. The video will be reviewed and scored by WheelWOD Appointed judges. As part of this video review process, the athlete's posted score may be accepted, modified or invalidated. Reasons for modification or invalidation of a score include, but are not limited to: • Failure to follow the video submission guidelines exactly • Violation of the workout format, especially movement standards • Workout attire which prevents the judge from determining if the athlete is meeting the movement standards • Miscounting repetitions Video submissions may be invalidated or adjusted without warning and after the close of a workout. Athletes submitting videos should have someone monitor their movement during the workout to ensure each repetition meets the required standards. Prior to submitting a video, athletes should review the video to ensure their reps meet the required standards, the camera angle permits the judge to determine if the movement standards are being met and there are no technical problems with the video itself.
1.14 – OPEN WORKOUTS – VIDEO SUBMISSIONS – SCORING PROTOCOL There are four possible outcomes in the judging and scoring of online video submissions: • Good Video: The athlete meets the required movement standards on all repetitions in the workout and the score they posted is correct. Their score will be accepted. • Valid with Minor Penalty: Over the course of the video, the athlete demonstrates 1 to 4 "no-reps" which may be removed from the athlete's final score as required. This penalty is used for video submissions where the score needs to be adjusted by fewer than 5 reps. If the score is posted in the form of a time, the total time to complete the workout will be adjusted accordingly. • Valid with Major Penalty: Over the course of the video, the athlete demonstrates 5 or more "no-reps." In this case, the score may be modified by subtracting 15 percent from the total rep count. If the score is posted in the form of a time, the total time to complete the workout will be adjusted accordingly. • Invalid: Over the course of the video, the athlete fails to complete the workout as required, a significant and unacceptable number of reps performed are "no-reps" or the video does not contain the criteria listed in the video submission standards. The athlete's score will be rejected and the video will be removed from the Competition Corner website. The athlete will have to submit a new video prior to the score submission deadline to receive a score for this workout.
1.15 – OPEN WORKOUTS – VIDEO SUBMISSION APPEALS PROCESS An athlete submitting a video for review will receive an email message from WheelWOD if the score posted with the video is modified. The message will give a brief description explaining the reason for this change in score. If the athlete disagrees with this score modification, they must contact Wheelwod@gmail.com upon receiving notification that their score has been modified. In this email, the athlete will list the workout in question, their original score, the modified score and the reason given for the score modification. The athlete will also provide a brief explanation for why they are appealing the decision. WheelWOD will review the athlete's appeal and the video in question in order to render a final scoring decision. This decision will be communicated to the athlete by email.
1.16 – WheelWOD GAMES LEADERBOARD The WheelWOD website will host the only official Leaderboard for the Open. Athletes will be ranked on the Leaderboard based on their performance relative to other athletes in their division. Ties on the overall Leaderboard  will be broken by awarding the best position to the athlete or team who has the highest result in any single workout. If athletes or teams remain tied after this first tie-breaker, the process continues to their next highest single result, and so forth. Ties will not be broken for single event results. More than one athlete or team can share an event result and all will earn the original point value. The athlete or team with the best performance across multiple workouts in a competition wins that competition.
1.17 – WheelWOD LEADERBOARD – INDIVIDUAL ATHLETES If an athlete performs a workout  and submits  a video submission for score validation, the entered score will appear on the Leaderboard, with the video linked to the score, once the video is submitted. Scores posted by video submission may be validated, invalidated, or modified through the assessment of a minor or major penalty. Furthermore, scores may be removed at any time at the discretion of WheelWOD.com Common reasons for adjustment and/ or removal of scores include unacceptable movement standards, improper rep counts or poor quality of video submission. Athletes in the Individual competitive divisions who submit a video ranked in the top 50 on their Open Leaderboard as of 11 p.m. EST on Saturday are guaranteed to have their video reviewed no later than 5 p.m. PT on Sunday as long as there are no technical issues with the video.  If an athlete skips a workout, has a workout invalidated or cannot complete the stated minimum score, they will no longer retain an overall rank on the Leaderboard. In subsequent workouts they will be listed on the Open Leaderboard below all athletes who have posted a score in every workout. This athlete will still be able to view their ranking in the specific workouts they do complete.
APPENDIX A: SPORTSMANSHIP All athletes agree to compete in a sportsmanlike manner. Unsportsmanlike behavior, such as arguing with an official or representative of WheelWOD., taunting, heckling, fighting or any conduct that would bring disrepute upon WheelWOD, the competition, other competitors, or spectators or event sponsors, as determined by WheelWOD., in the eyes of the viewing public or the WheelWOD community, may be grounds for penalty, suspension, disqualification, removal from the event, disqualification from future events or legal action. All athletes agree to put forth suitable effort in every workout or event. Deliberately doing less work, or performing at a level less than one is capable of (referred to as "sandbagging") in order to gain advantage in another workout or over another athlete or team is prohibited. Any athlete deemed by WheelWOD to be "sandbagging" may be penalized or disqualified from competition, as WheelWOD sees fit in its sole discretion. Any action that prevents another athlete from having a fair opportunity to compete (e.g., abuse or alteration of equipment, refusal to follow instruction) or that interferes with athlete and judge communication (e.g. external noise devices, bull horns, air horns, etc.), or is generally disruptive to the event, is not allowed. Athletes will be held accountable for the behavior of their coaches, teammates, team managers, supporters and guests. If the conduct of any member of such group or groups is deemed byWheelWOD. to be unsportsmanlike or disruptive to the competition, then the coach, teammate, supporter, guest, and/or athlete is subject to the same disciplinary actions. This is not an exhaustive list and is meant as a guide for the athlete, coaches and other attendees. This is not intended as a limitation onWheelWOD rights to operate the WheelWODGames in any manner it sees fit. WheelWOD reserves the right to terminate any athlete, coach, staff, volunteer, judge, visitor, guest, supporter, teammate and/or spectator participating in, attending or viewing any sponsored, sanctioned or supported WheelWOD Event at any time, with no further obligation or duty to such individual. All information provided, either in registration submissions, video submissions, scores, times, reps or rounds completed, must be the complete truth. A lack of integrity, or any actions that evince an intent to cheat or circumvent the rules or intent of the rules of the WheelWODOPEN, including lying (as one example), will result in disqualification.WheelWOD has and may delegate to an on-site director the absolute authority on any final ruling including, without limitation, disqualification of an athlete, removal of spectator(s) or dismissal of any attendee.