HALLOWEEN HAVOC
ONLINE OCTOBER 28 & 29
REGISTER NOW
If link does not work paste this in your browser:
https://competitioncorner.net/events/709#.WdZHGltSzIU
If you can not compete, You can donate here: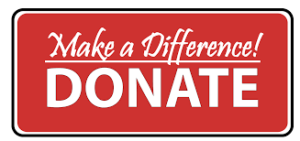 If link does not work paste this in your browser: https://competitioncorner.net/events/709/merchandise?sessionToken=5f321e6b-c4cc-4a50-876c-12c01cd4b6c5
---
Who are we raising money for?
Josh Noronha a 25 year old level 2 trampoline coach had an accident on the trampolines this past August that has left him paralyzed from the chest down.  Just regaining the use of both arms now.
The trampoline place he worked for and was injured at did not have insurance!
S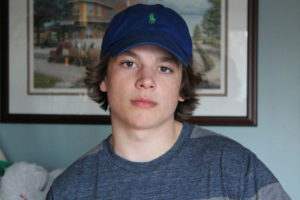 hawn Taylor 17 years old, was supposed be attending his Grade 12 year at highschool.  Instead in August Shawn was involved in a car accident that has left paralyzed from the neck down.
CrossFit Indestri & WheelWOD would like to help both families.  These two family have had their worlds completely change, they have enough to worry about that shouldn't have to include finical stresses as well.
On Saturday October 28th we will be hosting a Halloween themed competition both online and in person (at CrossFit Indestri) we encourage those in the area of CrossFit Indestri to sign up and come compete with us, and those too far away to compete in the worldwide leaderboard online.
When a small community comes together, they can make a BIG impact.
Event detail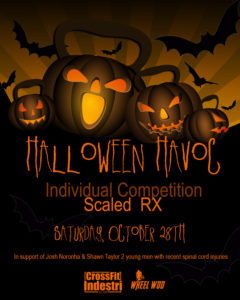 This SPOOKtatcular competition is for all athletes! Adaptive and able bodied. You're encouraged to compete in a BOOitful Halloween costume. The competition will involve 3 workouts in total.
Online competitors must complete between October 28-29. Those competing in person at CrossFit Indestri, the competition will take place on Saturday, October 28th 9am -1pm
Halloween Havoc
This inaugural Fun Halloween themed competition hosted by CrossFit Indestri will be available for all to participate either through online submissions or in person at CrossFit Indestri's affiliate. WheelWOD will add adapted versions of the workouts and athletes can choose either the able-bodied or adaptive workout but all scores will be submitted as either Scaled or RX divisions. There will not be separate divisions for athlete other than scaled & RX. When looking for guidelines on how to choose Rx or scaled, if you can perform of the Crossfit benchmarks ( girls) as prescribed sign up for Rx if you usually scale those workouts sign up Scaled. There will be no Muscle Ups or Squat snatch.
All proceeds from registration dollars are being donated to 2 families that had unfortunate accidents this past summer, leaving 2 boys with spinal cord injuries. ( story above) The only prizing will be bragging rights and knowing that you're going to be contributing to helping 2 families get their sons the equipment they need to move forward in life and maybe one day join our Fitness family.
The 2 young men these proceeds will benefit are:
Josh Noronha
Shawn Taylor
Both young men had accidents this past August that has unfortunately left them with Spinal Cord Injuries.
WheelWOD and CrossFit Indestri want to do what we can to help better the lives of these families and aid in the rehabilitation. We hope you will to. Registration fees and donations all will go directly to the families on a 50/50 split.
Registration costs: 15.00 Canadian
Workouts for the COMP here: http://wheelwod.com/wheelwod-open/1744-2/halloween-havoc-wods-standards-2017/