WheelWOD OPEN
Wodapalooza Online challenge
Working Wounded Games
Halloween Havoc
---
 WheelWOD Open 2018
WheelWOD   will Adapt the 2019 CrossFit Open for the 5th Year in a row. Adapted workouts will be posted nights of open announcements and movement standards released on the Friday mornings after. 
THIS YEAR THERE WILL BE A SCALED AND RX DIVISION for Seated & Standing (Upper & Lower) 
REGISTER HERE: Live January 20th
ALL RX DIVISION SCORES MUST BE PREPARED TO SUBMIT VIDEO VERIFICATION FOR ANY OF THE WORK OUTS. 
We will be requesting at least 2 videos from the top 10 in each division at the end of the open. Once requested you will have 24 hours to produce the video if not provided score will be considered invalid.
---
Wodapalooza Online Challenge
The Standing division is for all adaptive athletes that perform the majority of their workouts in a standing position.
In contrast to last year, all of our standing athletes will compete in a singular division in the WZA Online Challenge. At the conclusion, the top 6 athletes of each gender will qualify to compete in the Rx division, while those athletes that cannot perform the workouts as prescribed or finish 7th or below will be eligible for the scaled division via Open Registration.
Rx Standing

Clean

 145/95lbs

Press

 145/95lbs

Wallballs

 20/14lbs to 10ft/9ft

Skills

 Burpees (floor to chest), Dubs, 12ft Rope Climb, Swim unassisted
Scaled Standing:
Clean

 95/55lbs

Press

 95/55lbs

Wallballs

 14/10lbs to 10ft/9ft

Skills

 Single-unders, Lay-to-stand Rope Climb, Swim unassisted
---
Working Wounded Games
Working Wounded Games
Working Wounded Games is the flagship event of the Crossroads Adaptive Athletic Alliance. It pits adaptive athletes against each other in functional fitness competition on a level playing field – no complex category system, no scaling, no holds barred.
---
Halloween Havoc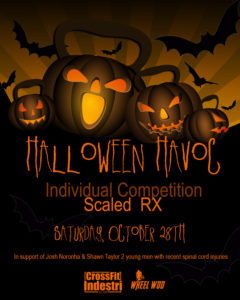 This SPOOKtatcular competition is for all athletes! Adaptive and able bodied. You're encouraged to compete in a BOOitful Halloween costume. The competition will involve 3 workouts in total.  
Online competitors must complete between October 28-29. Those competing in person at CrossFit Indestri, the competition will take place on Saturday, October 28th 9am -1pm
Halloween Havoc 
This inaugural Fun Halloween themed competition hosted by CrossFit Indestri will be available for all to participate either through online submissions or in person at CrossFit Indestri's affiliate. WheelWOD will add adapted versions of the workouts and athletes can choose either the able-bodied or adaptive workout but all scores will be submitted as either Scaled or RX divisions. There will not be separate divisions for athlete other than scaled & RX.
All proceeds from registration dollars are being donated to 2 families that had unfortunate accidents this past summer, leaving 2 boys with spinal cord injuries. The only prizing will be bragging rights and knowing that you're going to be contributing to helping 2 families get their sons the equipment they need to move forward in life and maybe one day join our Fitness family.
The 2 young men these proceeds will benefit are:
Josh Noronha
Shawn Taylor
Both young men had accidents this past August that has unfortunately left them with Spinal Cord Injuries.
WheelWOD and CrossFit Indestri want to do what we can to help better the lives of these families and aid in the rehabilitation. We hope you will to. Registration fees and donations all will go directly to the families on a 50/50 split.
Registration costs: 15.00 Canadian
Register Closed