WHEELWOD SEMINARS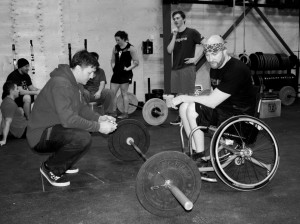 Our Seminar is a 1 day extensive course to teach coaches and gym owners how to prepare and adapt for athletes using wheelchairs or other assistive devices. We have been working and developing this program over 4 years. This is tried and tested and continues to develop as more information is developed and shared. We believe in paying forward what we have developed and learned to give others a chance to get fit, have fun and become part of a community.
ALL SEMINARS WILL HAVE EACH PARTICIPANT USING A WHEELCHAIR
DURING THE COURSE
Coaches Chris Stoutenburg & Steph Hammerman
.
SEMINAR COST: $175 PER PERSON- EVERY 6 PEOPLE SIGNED UP GYM GETS 1 FREE. 
MINIMUM REQUIRED 12 PEOPLE 2 WEEKS BEFORE SEMINAR DATE
MAXIMUM CAPACITY 20 PEOPLE PER SEMINAR
If you are interested in holding a seminar in 2017, PLEASE FILL OUT THIS ONLINE APPLICATION
Any issues or questions please contact us at wheelwod@gmail.com. or call us at 705-444-0006 at Crossfit Indestri.