Hey Guys
If you Haven't heard yet WheelWOD founder Chris Stoutenburg (Me) have accepted a position as Director of adaptive athletes for the Wodapalooza Fitness Festival 2017.
The registration will go live today August 1st. The registration will get you to the online qualifier.
There will be the following Divisions for Adaptive Athletes:
.
Seated – Male Rx
Seated – Female Rx
Seated – Male Scaled
Seated – Female Scaled
.
Standing – Male Rx
Standing – Female Rx
Standing – Male Scaled
Standing – Female Scaled
.
The Top 5 athletes of all the Rx Divisions will Qualify as long as video proof holds true to score submitted.
The Scaled athletes as long as they complete the online qualifiers workouts in total, they will be eligible for the 1st come 1st serve sign up (date to be announced)
The total amount of athletes selected will be 40. Go to www.thewodapalooza.com  for full details and registration.
Follow the workouts on wheelwod.com to prepare for the festival
Todays WheelWOD is: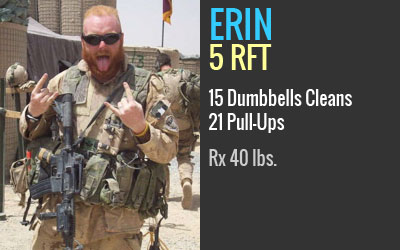 Hero WOD: ERIN
Erin Doyle  |  Age 32
Canadian Army Master Corporal Erin Doyle, 32, was killed in a firefight August 11th, 2008 in the Panjwaii District, Kandahar Province, Afghanistan. He is survived by his wife Nicole and his daughter Zarine.
5RFT
15 DUMB BELL CLEANS Rx 40/25LBS – SCALED 30/15LBS
21 PULL UPS
Rx Standing athletes must break Parallel and full hanging pull ups
Scaled Standing athletes ring Rows or Banded Pull ups can squat to box or power clean
Rx Seated athletes full hang pull ups, feet can touch the floor but must be clear of seat before first pull, Dumbbells must come from floor.
Scaled Seated athletes pull from a seated position, chin must clear bar. Dumbbells can be lifted from boxes
Enjoy Stouty